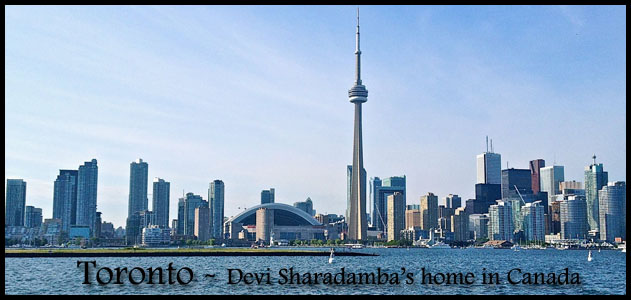 Photo Courtesy: Nidhi Ravishankar
The City of Toronto is the cultural, entertainment and financial capital of Canada. The city is home to more than 2.7 million people and is the key to one of North America's most vibrant regions.
Toronto is the capital city of the Province of Ontario. It is located in Southern Ontario on the northwestern shore of Lake Ontario. As Canada's economic capital, Toronto is considered an alpha world city by the Globalization and World Cities (GaWC) study group and is one of the top financial centres in the world. Toronto's leading economic sectors include finance, business services, telecommunications, aerospace, transportation, media, arts, film, television production, publishing, software production, medical research, education, tourism, engineering, and sports industries.
Since its incorporation, Toronto has repeatedly expanded its borders through amalgamation with surrounding municipalities, most recently in 1998. Toronto is one of the world's most diverse cities by percentage of non-native-born residents, with about 49% of the population born outside Canada"
Members of the South Asian community are already the biggest visible-minority group in the Greater Toronto Area. There were 684,000 as of the 2006 census, a couple of hundred thousand more than the second biggest group: Chinese. Their numbers are expected to nearly triple by 2031, reaching around 2.1 million. By that time, a Statistics Canada report said last year, close to one in four people in the Toronto area will be of South Asian background. Chinese, by contrast, would number 1.1 million, double the current figure.
Tourist Attractions in and around Toronto
OTHER TEMPLES IN THE GREATER TORONTO AREA
Satchidananda Sadguru Shirdi Sainath Maharaj Mandir
Shri Shirdi Sai Mandir, Markham
Muthu Vinayagar Kovil
435 Parliament street
Toronto, ON M9M 2M3
Phone : 416-413 7747
Pusti Margiya Vaishnav Samaj of Canada
Shrinathji Haveli, 58 Clark Avenue,
Thornhill, Toronto -L3T 1S5
Contact Phone: 905-771-3939
United Hindu Congress Canada
(Modern, United, Progressive, Canadian Community)
6004 - 1116 Wilson Avenue
Toronto, Ontario M3M 1G7
Email:- uhccanada@yahoo.ca
Phone: 416-789-7077
Sri Meenatchi Amman Temple
Finch and Middlefield
535 Middlefield Road, Scarborough
Phone : (416) 535 6560
Shree Mariyamaa Mandir
18 Strathearn Ave,
Brampton, ON
Phone: 905-494-1195
Shee Haranarain Mandir & Cultural Centre.
175 Advance Blvd. Unit 10
Brampton, Ontario
Phone: (905) 813-0789
Toronto Hindu Dharmic Sabha Inc
130 Westmore Drive,
Etobicoke, ON M9V 5E2
Phone: 416-674-0415
Maha Kali Mandir
595 Albion Rd, Etobicoke, ON
Phone :416-749-5254
Sidh Shakti Babaji Mandir
210 Islington Ave, Etobicoke, ON
Phone :416-251-5538
Shiv-Shakti Kali Devi Mandir Hindu Association
42 Haas Road, Etobicoke, On M9W 3A5
Phone: 416-843-8457/416-671-5139/647-885-4901
World Maha Hindu Organization Of Canada
599 Galloway Crescent,
Mississauga, ON L5C 3R7
Ph: 905-306-1127
Lakshmi Mandir Hindu Maha Sabha
588 Needham Lane,
Mississauga, ON L5A 1T8
Phone: 905-803-9813
Sri Ganesha Durga Hindu Temple of Mississauga
7220 Tranmere Drive
Mississauga ON, L5S 1L6
Phone: 905-405-0011 or 905-501-0011
Satya Jyoti Cultural Sabha (Canada Inc.)
6731 Columbus Road,
Units 7 & 8,
Mississauga, Ontario
Phone: 905-564-6723
Pranav Hindu Mandir
102 Rivalda Rd, North York, ON
Phone: 416-741-4335
Sri Siva Vishnu Temple
38 Rivalda Road (Weston/sheppard)
North York, ON M9V2M3
Phone : (416) 740-0062
Tiruchendur Murugan Thirukovil
2400, Finch Avenue West, Unit 10,
North York, ON
Phone:416-744-9568
Toronto Hanuman Mandir
190 Milvan Dr, North York, ON
Phone: 416-748-9977
Visvanath Mandir
713 Jane St, York, ON
Phone: 416-604-3417
Canada Kathasamy Kovil
733 Birchmount Road
Scarborough, ON M1K 1R5
Phone : (416)438 1882
Nagapoosani Amman Kovil
5637 Finch Avenue East, Unit 5A
Scarborough, ON. M1B 5K9
Phone : (416) 412 1289
Nallur Murugan Kovil
20 Nugget Ave. #01
Scarborough, ON. M1S 3A7
Phone : 416-293 9004
Periya Sivan Kovil
1960 Ellesmere Road, #10
Scarborough, ON.
Phone : 416-907 7434
Vengadasalapathy Kovil
1240 Ellesmere Road
Scarborough, ONTARIO. M1P 2X4
Phone : 416-999 4274
Sri Sakthi Durga Devi Temple
750 Markahm Road
Scarborough, ONTARIO.
Phone : (416) 439 9483
Sri Aadhi (Aathi) Parashakti Indu Aalayam
3021, Markham Road,Unit 45,46,47
Scarborough, ON M1X 1L8
Ph:(416)-293-1226
Shree Swaminarayan Mandir, Vadtal Dham
Unit 5, 3011 Markham Rd.
Scarborough, Ontario, M1X 1L7
Phone: 647-430-3605, 416-219-0382
Durga Hindu Mandir
2691 Markham Road, Unit 5,
Scarborough, Ontario (Markham & Finch), Canada,
Phone 416-754-2983
Siva Vishnu Kovil
38 Rivalda Road
Scarborough, ON M9M 2M3
Phone : (416)740 0062
Shiva-Shakti Cultural Sabha Canada
8861 Sheppard Avenue,East
Scarborough, ON M1B 5R7
Phone: :416-754-0440
Varasiththi Vinayagar Kovil
3025 Kennedy Road, #10
Scarborough, ON M1V 1S3
Phone : 416-291 8500