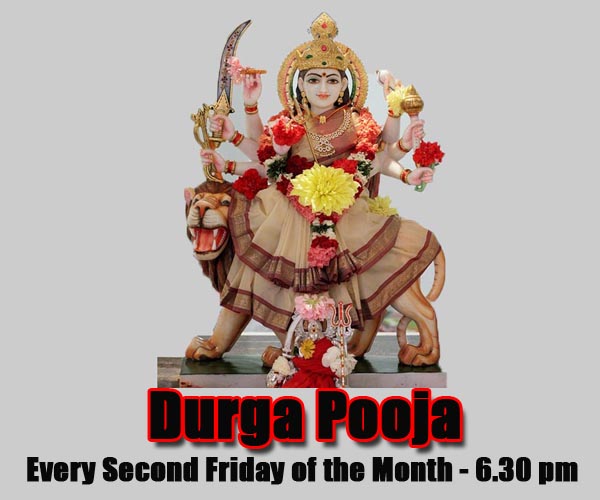 Durga is the principal form of the Goddess, also known as Devi and Shakti. Durga the mahashakti, the form and formless, is the root cause of creation, preservation and annihilation. According to legend, Durga (Parvati) Manifested herself for the slaying of the buffalo demon Mahisasura from Brahma, Vishnu, Shiva, and the lesser gods, who were otherwise powerless to overcome him. She is pure Shakti, having manifested herself within the gods so that she may fulfil the tasks of the universe via them. At times of distress, such as the mahishasura episode, to protect the universe she manifests herself via the gods.
Being a Devi temple, it is only appropriate that we worship Devi in the form of Durga and the worship happening on a Friday is even more auspicious. Durga Pooja will be performed on special Durga Mandala. This is a great opportunity to worship Devi on a regular basis to obtain her continued grace.

SVBF Canada is welcoming all Durga devotees to perform, participate, sponsor and derive the benefit from the pooja. Devotees can sponsor the pooja for $31.00 and invite all their friends and relatives to participate in the pooja sponsored by them. Devotees can also sponsor the mahaprasadam (Dinner).
Pooja sponsorship with Annadanam: $201/ ; Pooja sponsor: $31/, Archana: $11/
For more details please contact Roshan Lal at 416-307-2140 or Param Bhat at 416-737-1270