Hanuman Chalisa
Every Third Saturday of the Month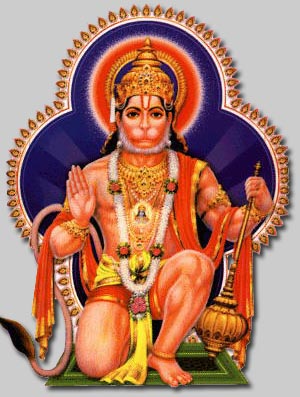 Hanuman Chalisa is a very powerful and divine poetry of forty verses on Hanuman, composed by Sant Sri Tulasidas in the sixteenth century in Awadhi language. His love, faith and total surrender to Sri Hanuman reflects in every verse. Sant Sri Tulasidas has envisioned and glorified Hanuman with over flowing reverence and devotion in this Hanuman Chalisa. It has been the most acclaimed chanting hymns among the devoteees. Each verse is called a chaupai (means 4 legs) and each chaupai of the Chalisa has two lines each which always rhyme.
Shri Hanuman is understood as great jnani, yogi and a brahmachari (bachelor). He has been blessed as chiranjivi, one who lives eternally. The blessings of Siva, Vishnu, Brahma, Surya, Indra, and Vayu made Shri Hanuman invincible. He is the great lover of music and also mastered the Sanskrit language. Being the Yogacharya, Shri Hanuman is considered as an embodiment of the four yogas. His strength, valour, prowess, will power, memory, balanced emotions, sharp intellect, fearlessness, and noble actions were perfectly refined and grounded in.
Hanuman Chalisa has been found to be highly effective in controlling the evil effects of Saturn transit or Saturn's major / minor periods.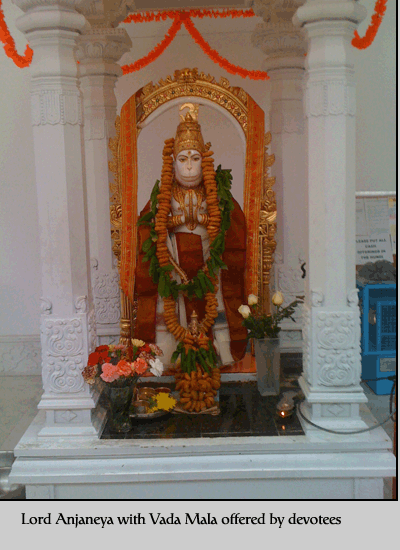 At SVBF devotees have been chanting the chalisa every third Saturday of the month since Maha Kumababishekam and has been one of the most popular chanting sessions with the number of devotees and the number of sponsors increasing at every session. The chantings are always sponsored by devotees who either sponsor / co sponsor with a nominal donation of $101.00. Devotees also offer Vada Mala to Lord Hanuman at a cost of $51.00 for the garland with 108 Vadas.
Sponsoring Hanuman Chalisa: $101.00 includes
Sankalpa and Archana to Lord Hanuman in the name of the Sponsor and their family.
Food supplies for Maha Prasadam (Lunch) for all devotees
Supplies of Paper plates, napkins, spoons
Sponsor receives one Vada Mala of 11 Vadas as Prasadam.
Vada Mala Offering for $51.00 includes

Sankalpa and Archana to Lord Hanuman in the name of the Devotee and their family.
Sponsor receives Five Vadas as Prasadam.
Vada Mala of 108 Vadas will be offered to the Lord, which will be distributed to all devotees.
Devotees can also make online payment using Paypal or Credit Card. Click on the appropriate button.
Cheques for all donations should be drawn in the name of "SRINGERI VIDYA BHARATI FOUNDATION"
MAHA PRASADAM MENU WILL BE DECIDED BY THE SVBF FOOD COMMITTEE. Sponsors and other devotees are welcome to bring hygienically prepared home cooked vegetarian food without using onion or garlic for serving to the devotees. We would highly appreciate if devotees / Sponsors can inform us the item that they wish to bring at least 3 days in advance.
For more details about Sponsorship / Registering kindly contact the following

Chandrika Ravishankar - 905-997-0543
Ganesan Sreeram - 905-799-6257
Thiagarajan - 905-956-4782
OR
Email : info@svbfcanada.com
The Schedule of Hanuman Chalisa Chanting for the year 2018 are as follows (Chanting starts at 10.00 am on all scheduled days:
| | 20 JANUARY 2018 |
| --- | --- |
| | 17 FEBRUARY 2018 |
| | 17 March 2018 |
| | 21 April 2018 |
| | 19 May 2018 |
| | 16 June 2018 |
| JULY | 21 July 2018 |
| | 18 August 2018 |
| | 15 September 2018 |
| | 20 October 2018 |
| | 17 November 2018 2018 |
| | 15 December 20182018 |
Changes, if any will be notified through our periodical newsletters.