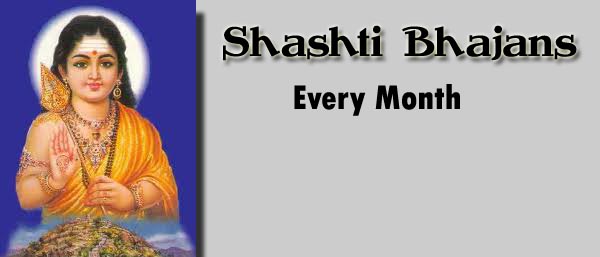 Shashti, corresponding to the number six, falls twice in a month and usually the Shashti , falling six days after the New Moon day, is a day of importance for worshipping the Six-faced God, Sri Karthikeya or Muruga. Many devotees undertake fasting  on this day and recite  prayers such as Saint Arunagirinathar's Thiruppugazh hymns and Adi Sankara's Subramanya Bujangam.
In particular, the Shashti , occurring after Deepavali, is termed as Skanda Shashti and is celebrated in a grand manner as the day  Muruga overcame the asura Surapadma.  
It is a period when Lord Murugan's devotees recite the hymns Skanda Shasti Kavacham- the protective Armour of Lord Murugan. Skanda Shasti Kavacham is a short composition of powerful hymns containing special mantras. Through these matters, the composer, a sage cum poet Thevarayar, seeks Murugan's blessings to protect him against all evil forces such as the devils, goblins and protection of his body against all sickness. Though he had composed six such kavachams or Armour of hymns in honour of each of the six celebrated abodes of Murugan, the one composed at Thiruchendur is most popular and is recited by devotees. This is because, Thevarayar, who was despondent with his severe ulcer pain was cured at this abode of Murugan.
Devotees of Lord Karthikeya have been reciting Shashti Bhajans every month.
The Thiruppugazh Bhajans scheduled for :
2018
April 20 Friday 7:00pm - 8:30pm
May 20 Sunday 10:30 am - 12:00 noon
June 18 Monday 7:00pm - 8:30pm
To join the group and participate in the Shasti Bhajans kindly email Sri. Pasupathy