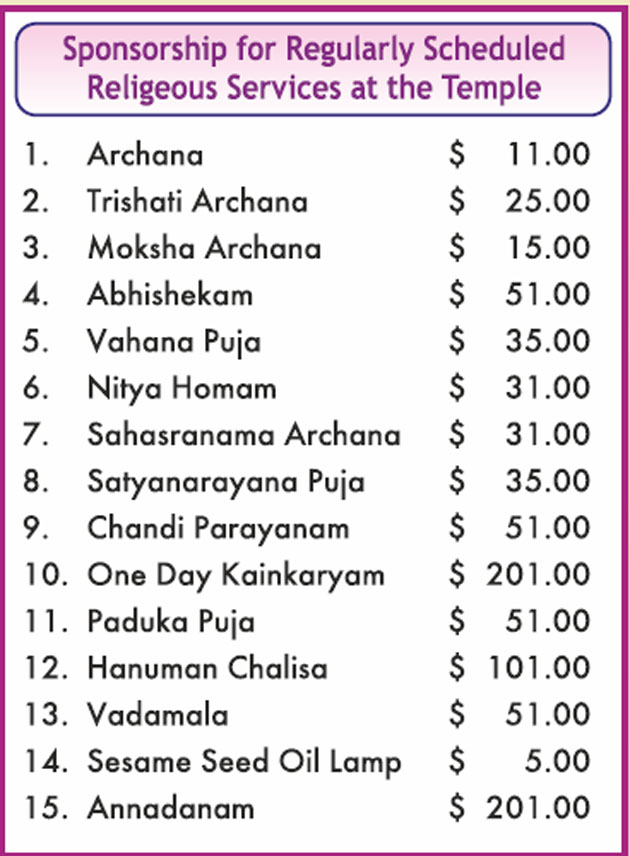 • PLEASE CLICK HERE FOR MORE DETAILS
Please refer to SVBF Newsletter and web site for special events and Festivals,

• Appointment with Priests should be made with Temple staff. Donation for the service has to be paid to Temple staff only.

• For sari/vastram donation devotees may bring new sari (silk preferred for Sharadamba) or vastram or donate $101/. A $51 donation is requested if the devotee wants the sari back. At Navaratri, Deepavali or other festivals special sponsorships apply.

• All priest services shown above at temple or outside shall be booked at the Front Desk or by calling 416-745-1010,ext.3. Devotees may consult our priests for auspicious times, type of pooja etc.

• All Donations shown above shall be paid to the Temple and receipt obtained at the time of booking

• Sambhavana (gratuity) for priests is over and above the donations shown and is voluntary. Receipts will not be issued for this.

• Our priests are well qualified to perform many other religious events as well. Please consult the priests or Temple authorities to discuss your requirements, auspicious days etc.

• Devotees shall arrange transportation of priests to and from outside events. Maximum time available for each outside event is 3 hours.

• Daily/weekly/monthly poojas and Abhishekam are also available.

• If devotee can not be present during a pooja, prasadam will be mailed upon request. Please provide Gothra, Nakshatra, name, mailing address, phone number and e-mail

• Contents of this page are subject to change without notice, All donations are gratefully accepted

• For all other information, or use of Community Hall, Food arrangement, Special seva project etc. please contact: info@svbfcanada.com or 416-745-1010, or www.svbfcanada.com .